For over a week now we are rolling through the region of Gilan, the green north of Iran. We have found the land of milk and honey!
We enjoy spring temperatures, incredibly warm and generous people, as well as delicious food.
Currently we are in Rasht, our odometer is at 8145, I'm sitting at the warm "Heater" and writing while Percy is cooking a soup.
Unfortunately, in the last few weeks we have been followed by the flu, or their traditional companions, such as sore throat, runny nose and cough ... these unpleasant fellows could not be shaken off yet. In Azerbaijan, it was a race against time, so that we could keep our visa and therefore we could not completely cure ourselves, so we stupidly upset the "troublemakers" and now we do our best to get rid of them: rest and digest the experience.
Incidentally, I'm typing on a tablet for the first time in my life, I could borrow it from Ashkan, our super-host, because unfortunately my "blogging tool" (smartphone) left me just after the Iranian border. - Of course, not completely unfounded. I was again tired and careless: so probably I have not stowed my smartphone as usual in the handlebar bag ... now someone else may enjoy the thing ... it's too bad that I lost all the data and addresses and then my expensive investment has not paid off.
So pleace dear friends, especially, Vafa, Qassim and Eyup, send us a message with your phonenumbers or mail, so we can get in touch again.
If the ATMs do not spit money out:
In Astara, just before the Iranian border, we wanted to exchange our remaining Manat and get even more dollars from the machines. Because neither our credit cards nor our traveler's checks work in Iran. Unfortunately, it was weekend and the ATMs did not want to give us dollar bills.
On Saturday night we spent checking ATMs but weren't successful. We were promised that one bank would be open on Sunday morning so we could probably get some dollars there. Unfortunately, we were then in front of closed gates.
So we had no other choice than to get Manat from the ATM and then exchange them on the Bazaar, in the throes and under dozens of curious looks.
 If thick bundles of money flutter through your fingers, this will make every thief happy! We didn't feel comfortable at all... and of course everyone recognized us as a tourist ... many even considered us to be rich Russians ...
The reference limit was about $ 170 per withdrawal and a maximum of three salaries were possible ... we slowly started to sweat, because our budget had to cover the visa costs for Turkmenistan, Uzbekistan and Tajikistan, as well as all other costs for meals and any accommodation. So we were pretty busy collecting notes ...
In the end everything went well,  now we just have to tighten our belts a bit, but somehow we will get through, -we hope so-.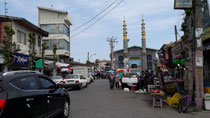 Welcome to Iran!
After our luggage was scanned at the border crossing and our passports were stamped, we rolled through Iran, -Of course, I waered a headgear (Hitchab) but meanwhile my mane has to be tamed anyway, so that I'm able to see the road, so no drama-
While Percy was trading $ 100 in the city, our steelhorses and I had mutated into the main attraction of the alley.
An elderly gentleman came to me and gave me a neckless with many eyes against the evil eye, I didn'tt know what hapened to me, of course I accepted the gift thankfully. Then we drove with a big smile, carrying 5'000'000 million Rials in the pockets.
What a strange feeling to be millionaires ;), we celebrated this during a delicious lunch with plov and smoked eggplant-tomato-egg-mush.
As we made our way to find a place to sleep on the beach, the sporty young Amid suddenly drove on his bike beside us and greeted us warmly. As a warmshowers member he has already hosted many "tourist newcomers" and invited us to his home.
 His cousin worked in the same restaurant we ate and he had informed Amid about us. Well actually he just sent a selfie from us and himself.
Ou... almost I forgot to mention a very specific altitude about Iranians. They adore to take selfies, especially from tourists, we already got used to it somehow.
Finally, we were hosted by Mohamad and his family, since Amid home was already full. 
Percy was then invited  to play football with the two youngsters in the gym. So while he was kicking a ball with a pack of clenched testosterone and his stiff muscles, I was allowed to examine the kiwi plantation and wordlessly communicate with Muhammad's mother. In the kitchen, my help was not needed, so I marveled at the ornate Persian carpet and regretted my loss of smartphone, because unfortunately, the search was also unsuccessful and because the device is set to flight mode, it can not be located ... 
For dinner Fariba had cooked extra for us spaghetti with soya sauce and for breakfast there was delicious omelette from the chickens in her backyard.
Thank you so much!!!
What a welcoming!
So we happily cycled on and found a nice spot on the beach for camping in the evening. After a long time, we finally cooked our meal on fire again ...
 Meanwhile, a farmer and his son appeared on a motorized wheelbarrow truck and unloaded a ton of trash and lit it. He then went fishing with his inflated truck hose (Looks like the swimming rings in the Alpamare in Switzerland). His son played in the meantime probably "star wars in real, with with stick" and waved wild with his "lightsword" against a invisible enemy. 
-We rarely see playing children, we live in the age of the Playstation and virtual games- 
After about 20 minutes, the farmer returned, dug his trash with sand and drove away, it tore our hearts once again. We humans really have a problem: ourselves and our garbage.
*****
We drive here through a blossoming and sprouting nature, wonderful scents beguile our nose, tender green on the leaves make our hearts beat faster and the sun and the warm smile of the Iranians let us pedal happily and cheerfully. But everywhere, even 
at the most beautiful places we find garbage lying around. The cleaning up we have given up long ago, a better solution has to be created!
Shortly before Prehzar, a nice gentleman, Hamid, stopped us at the street. He was a warmshowermember and would have an overnight stay for us. This offer came to us as called, because a shower was badly needed.
So after being fresh again, we sat in Hamid's classroom of his English Institute and talked with his students. That was a great pleasure!
Once again, we gained deeper insights into local life and culture. We then allowed ourselves a "cyclingfreeday" as we were staying at the resort from Hamid's uncle. (we had 2 empty rooms with carpet on the floor and a toilet-shower available).
So we strolled through beautiful colorful markets, walked along the Gisoom Beach, where the men and women's bathside are separated with a courtain. And ofcourse visited the Visadar waterfall.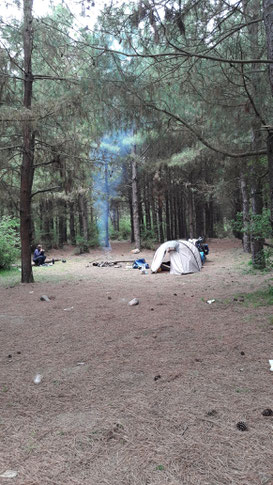 Shortly before Rasht we had another two-day rest, as Cécile was again sick, so we enjoyed a quiet spot in the woods in a popular picnic area. On the first night we listened to an incredibly beautiful nightingale concert at three o'clock in the morning and on the second night a dog protected us and was barking against every little noice ...
We met a nice family, which invited us for the next day for lunch. Of course we didn't want to miss the local veggie food. So we drove to Some Sara and stopped in a park, to make us "fresh", especially to get rid of  the firesmoke.
In the park, a crowd of people soon gathered around us and a fireman offered us that we could use their shower - perfect! - Camping in the park was not a problem, they said aswell.
But suddenly there was a gentleman with a scowl, we were told by hands, he was a cop, this wanted to see our passports ... after a long pondering he let convey that we can't stay in the park at night and should leave the city in two hours.
Ismail, one of the sons of the hostfamily, happened to be working around the corner right there and his brother Hamid, was soon there to help to translate the situation.
Everything was not as bad as it seemed, probably half as ferocious, the gloomy gentleman was just a security officer, who went over his competences and was worried about our safety. 
Well, so we approved a shower at the fire department and afterwerds enjoyed a delicious lunch with many Gilans local dishes. 
For the preparation of the delicious food was the great Mama-chef probably many hours in the kitchen.
They even gave us plenty of food for the road and made us a "personalized dictionaire in Farsi" with the most important words and questions.
Thank you so much!!!
Then finally we reached Rasht, as we drove into the city followed us a car and invited us to a Caj, but actually we wanted to find a place to stay, because unfortunately I had lost the phone numbers of our new friends from Iran and had no more contact possibilities.
At the 4th invitation we gave in, the car drove us to a pastry shop and there we were served with delicious pastries and Caj. 
We talked with hands and feet, then we moved on to the park, because there should be even a camp opportunity there.
It was already dark, light rain set in and the park was fully lit and busy. The camping was closed. However, several people assured us that we could spend the night in the park without any problems.
Somehow we were not comfortable. At a cafe on the edge of the park, we asked if we could pitch the tent near there, by now it was already 10 pm. 
The owner was of course not very pleased, but then showed us a spot that would have been okey. After a Caj and "thought booze", whether we should really pitch the tent there, or maybe just cock the tarp, one of the waiters started talking with us and invited us to his home. 
Again an angel came as if called. Ashkan was even able to leave work an hour earlier and so he escorted us at his cosy place.
Oh how happy we were about this nice coincidence!!!
So we enjoyed a few rest days in Rasht. And tomorrow we will drive to the famous village of Masouleh, where it had probably just yesterday snowed.
After that, we will move on to Tehran and tackle our visa requirements.
It's unbelievable here, I'm missing the words, I think you just have to experience it yourself and see, it's true, there's this limitless friendly humanity existing.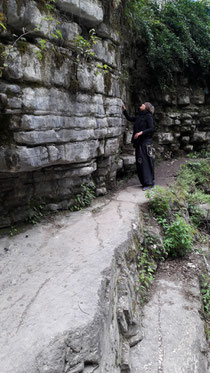 About wonderful things that are incredible
- uuups, sounds like a book title-
... and again salty water rolls over our cheeks, no, this time no sweat. They are tears, tears that touch feelings we can't put into words. It is a mixture of joy, humility, awe and infinite gratitude.
What we experience here can no longer be comprehended with the mind, "you only see well with your heart," said a wise man once, who had met the little prince ...
Before we wanted to drive off from Prehsar on Thursday morning (weekend of the Iranians), we wanted to buy some food. Unfortunately we had too big notes and neither the baker nor the vegetable seller could give the return money.
At the bakery a passerby paid us the bread and the vegetable seller gave us the food for halfprice. Incredible!
All the recrimination had no value.
As we sat on a bench, eating the ovenfresh bread, suddenly two man appierd who asked us to come with them. We were taken to the backyard of a huge building and many men came and pictures were taken.
We did not know what was happening to us and stayed excited, no one spoke a language we knew. With hand an feets we were talking.
After the "photo session" we were brought into the building, at some point we understood that they bring us to the mayor.
So we sat completely perplexed and ignorant at the conference table with some men who also spoke only Farsi. Caj was served and we tried to explain where we came from and how we traveled.
Then suddenly everything went very fast, two beautiful bags were presented to us, as a souvenir and - hold on! - an envelope with money.
At least we tried to ward off the latter gift with thanks, but it was impossible. 
Dr. Shahabi was not deterred by his plan and as we understood, he is a great philanthropist with a huge heart who wants to support people. He also wanted to support us ...
Completely touched and absolutely overwhelmed it dripped from our eyes while we somehow tried to thank and desperately struggled for words.
We were taken back to the steelhorses and said goodbye, but hardly we sat in the saddle, a man gave me a sun cream, pointing with the finger on my red cheeks.
The laughter freed itself completely independently from my throat.
Are we touching on the secret and found the reason why this country is so hidden?
Because the richest treasure, the most valuable resource in the world lives in the hearts of this population?