---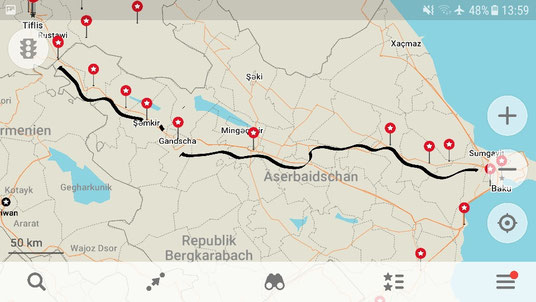 It is the last day in March, our Azerbaijan visa is still valid for 10 days and we are located near Qobustan, it will take us about 230 km to reach the Iranian border.
This time it caught Percy: He lies wrapped in his sleeping bag in the bed of a simple hotel room to recover his bad cold. Outside, the wind is raging, heavy gusts of wind are sweeping across the country and I finally have time and desire to blog again ...
---
We drove through sparsely populated landscapes across the green corridor past flocks of sheep and small villages. Visited inconspicuous aswell as modern cities and always came back to enjoyment of warm hosts.

At first the snowy mountains on the horizon accompanied us until they were replaced by gray hill formations and we finally reached the metropolis of Baku on the Caspian Sea.

It's a country that has much to offer besides gas and oil, it houses wonderful treasures, such as warm and hospitable, as well as helpful people and beautiful landscapes characterized by the clay vulcanos.

So if anyone is looking for a wonderful diversified holiday destination, that is not yet flooded, we can highly recommend you Azerbaijan!
---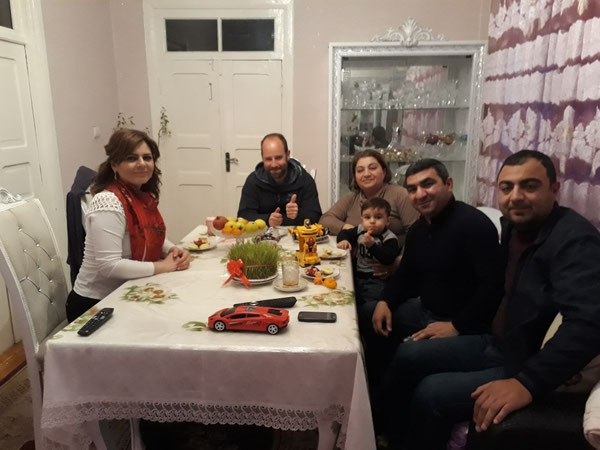 Welcome to Azerbaijan

At the boarder we foremost had to walk through a huge iron gate and received from a civil servant a small shred of paper, on it was written by hand: "Velociped".
We were then directed to a counter. There we had to hand over the snippets and passports and then wait for the baggage check. An officer glanced at our rear saddlebags and signaled us to continue.
With a "good luck" we got back the passports and a bit bigger shred of paper.
Before the second iron gate we had to hand over the shredded paper to officials and were "released" with a smile to the country.
No sooner had we rolled a meter on Azerbaijan soil, than a man with a thick bundle of money Manat (it is forbidden to import or export the Azerbaijan currency into the country), waved at us, but we drove past him out of fear that he would hardly give it just like that ...

Rules and duties

As a tourist in Aserbaijan you have to be registrated at the Immigration Feoartement within the first 10 days, even if you have a valid visa.
If you omit this, you probably have to expect a high fine.
On the Internet, we found reports that described that every hotel would automatically initiate this registration: it was said, it would be all very simple.
Thus, we went the first day in Ağstafa into a hotel. Unfortunately, they did not want to register and referred us to the "migration office" at the bazaar, but of course that was already closed at that day.
How to become a guest of the yogurt shopper:
At the supermarket, Percy wanted to know from the seller if "Qatiq" was yoghurt.
He immediately brought his neighbor, who evidently could speak something English. But even this one knew only to explain that one can "spoon" the content. Well, the "Qatiq" - it was actually yoghurt - was bought anyway and we were then asked for tea, at Said, the neighbor of the supermarket.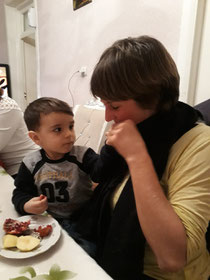 Said then offered to accompany us to the migration office the next morning. Luckily, because without him we would hardly have found the building.
An official with a very limited English vocabulary, then held the interview for registration, it cost us 10 manat, a signature on a document whose contents we couldn't read, and a few frowns.
Again and again, Percy and I had drawn different understandings and conclusions from the sparse conversation content, and once again we were faced with a riddle about what we were supposed to do.
But it was clear that we absolutely had to follow the instruction and have to register again in Baku on the migration office.
It was very irritating because according to previous knowledge, we believed a one-time and free registration would be enough to comply our duty.
Well, it seemed that that's the eay it works here, "That's Azerbaijan!" ... so we cycled on.
Finally we arrived Baku and in the first hostel we managed the registration an even received a receipt, that looked more officially. 
---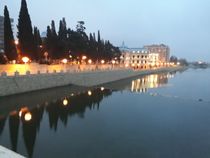 Gənjə, the place where the story of Azerbaijan began
Here in Gənjə (Ganja) in 1918 (after the collapse of the Tsarist Empire) the Declaration of Independence was signed. At that time Gənjə was the capital of the northern part of Azerbaijan.
Thanks Elchin! -he had welcomed us on arrival in the city and helped us to find the only hostel. There we stayed for a few days, so that Cécile could cure her migraine and cold.
Elchin then became our personal "city guide" and we had the pleasure of a great city tour with a lot of historical information and cultural features. Percy was aswell introduced to the game "Nerd" (similar to Tavla / Backgammon, but very different rules of the game) and we were allowed to taste his mother's homemade pastries: Paxlava, Şekerburra and Cigarillos ... mmmhhh yummy!
Also Percy found in Elchin a buddy  to watch the siccergame Bayern-Beşiktas Champions League .
---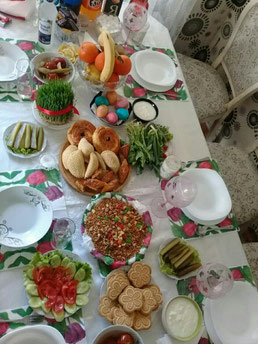 Novruz Bayramı
We met a country in holiday mood: on March 21, "Nouruz", the most important holiday of Azerbaijan was celebrated.
In preparation for this festival, to greet the spring, the women bake the traditional sweets such as Paxlava and Şekerburra, here also eggs are cooked and colored to make then "Egg-cracking". -sorry I don't know the correct expression for this custom-
Some who take it very carefully decorate their table or festival altar with the "Haft Sin", the seven ingredients, starting with the letter S: Sekke (coins), Sib (apple), Somach (spice),
Sombol (hyazinten), sir (garlic), sabseh (wheat, barley or similar), and serke (vinegar).
Especially the Sabnah, a plate with wheat spreads,  is a very important symbol. 
Besides the dishes, every Wednesday the family light up bonfires in their backjard and jump over the fire to burn the bad habits and make new intentions.
The Persian custom dates back to the time of Zoroastrianism and was of course changed and adapted with history.
I am fascinated by these rituals practiced to welcome springtime and to celebrate the "rebirth of nature".
---
Overwhelming hospitality

In Mingəçevir we actually wanted to set up a tent at the lake, but Şabnan invited us to her home, she celebrated her 24th birthday and spoiled us like kings. We were simply overwhelmed, so much cordiality and simplicity, so much food and so few words were available to communicate.

Any attempt to sleep on our own sleeping mats failed.
We ended up sleeping in her bed while her, her brother, and her son slept on the carpet in the living room.
We were so ashamed that was too much! Helpless we stood there, no chance for us to get out of this situation with not beeing rude....

When we woke up in the morning, a princely breakfast was already eaiting for us.

Phu! We had now words anymore. Just felt very bad and still so lucky, we really appreciate it, but it eas just to much.
We had no chance, this hospitality rolled over us like a tidal wave, made us completely flat.
At least we could hand out a good swiss pocketnife as a little gift for this huge generousity.
 I just fell in love with that power women! So amazing what she organized for us!

Still in shock we drove on and wondered ... we never learned to deal with such!
---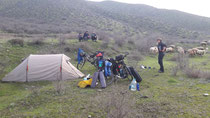 Tentspectacle in herdsman's everyday life
After a good cycleday (113 km), we found a beautiful place to stay with a wonderful view upon a lower river valley.
As we crawled out of the tent in the morning, we welcomed a smacking herd of cows and sheep with their shepherds.
We could have thought so before!
While we gather together our belongings under the watchful eyes of the shepherds, we made coffee and tea, but our spectators refused the tea and only took a date and wanted some selfies...
---
Downpour and happy events
We were sitting beside the road,  just a hundred kilometers before Baku and just took the last sip of the selfmade coffee, as we saw two travelling cyclists pedaling on the highway. What a pleasure! 
The two young Frenchmen had also been traveling for 7 months, they had started their journey in Singapore and then flown from Dehli to Baku and will cycle on back to France.
After a short "chat" we cycled on and soon the gray clouds caught up with us. Soaking wet, we reached the small village of Cengi and knocked at a farmer's door and hoped, that we can spend the night under a barn roof.
Fortunately, he waved us into his room, immediately their sleeping mats were cleared and the tablecloth laid out on the floor. Tea and pastries were served and we were exchanging stories with hands and feet.
In the yard, the farmer lives together with his wife and their married daughter and son aswell as married son with his wife.
 As usual, there was a dump toilet outside next to the barn. They had 3 cows, some chicken and sheep. The milk they can sell in Baku for 1 Manat per Liter. We couldn't figur out how much milk they can get in one day, but it seems as a hard life anyway.
At least we lied in our sleepingbags under a roof and had a comftable night. Early in the morning, after they have milked the cows we left them with glowing hearts.
---
Bakuweek
We reached Baku on Thursday, exactly during the Novruz holidays. Unfortunately, we had not considered this, because the prices for accommodation were of course high, most cheap hostels were fully booked and of course the Iranian Embassy was closed too ...
The weekend we then dallied with city sightseeing, sewing our old clothes and treated Percy's cold.
Nevertheless, we enjoyed the days in the metropolis as much as possible and made many charming acquaintances:
Farid helped us, just as we arrived in Baku while we were helplessly searching a hostel. Later we spent a great evening with him, his pregnant wife and his brothers.
It was really exciting to exchange the stories with those artists, which were working as photographers, jazz singers and the best shisha "manufacturer" from Baku. We had a lot to laugh and ate tasty food, it was so inspiring! Thank you very much for taking us out. We whish you courage to fulfill your dreams and plans successfully!
****
We had already talked to Vafa on the phone in Shamaki, because she was serving as a translator for  her brother-in-law when we met him in Shamaki on the street for a short chat.
Some days later we met her in Baku and she showed us some parts of the old city and chilly Kafes. She even knew a Dönerbar which served vegetarian Falafel. 
They were really delicious! Thanks for hanging out with us, we really enjoyed!
We wish you all the best and good courage for making your dreams come true.
****
Then by coincidence we met Qassem and his friends on the street. Quassem was very happy to speak a little French with us, we hardly tried to rummage our mini vocabulary from our grey braincells! 
We spent a nice evening with those great people and joined a openair concert and afterwerds passively smoked Shisha - for Percy's lungs it was of course poison again, the next day he lay flat with high temperature. 
Our new friends already "breathed" us for our "Irantour" and we received an invitation to be their guests in Rasht.
Wow that's awesome! Thank you so much guys!
Ah, while speaking of Iranian invitations, did I mentioned that we have met several Iranians again and again and were immediately invited to their homes in Iran? So amazing! It was really tricky to keep those names in our minds...luckily we have cellphones to save the data.... huuiui ....
---
Excursion to the Lökbatan mud vulcano
On Wednesday, Percy had his Iran visa in his hand: olé! During 60 days we will be allowed to drive through the country, that means we will not only drive along the coast of the caspien sea, but also "pull in" Isfahan and maybe Shiraz.
So after picking up the visa at the embassy we decided spontaneously to celebrate the day with a short trip to the nearest mud vulcano. We even found the right bus and chugged out of the city.
In the bus we met Alirza, who immediately told us about his great plans, that he would emigrate to the US in the summer to build up the distribution of "green energy" there. Together with his team, he developed a power generator that requires energy without external resources such as oil, gaz or electricity. Unfortunately, I couldn't find out more details, because when he heard that we wanted to hike to Lökbatan, he decided to reject his plans and accompany us, bevause in that region no one would speak English there.
So we walked together along the road through dried mud and passing oil pumps, the target already in sight. Suddenly a refinery worker arrived, he asked us to turn around, bevause for the "entry" you need a permit, which you would receive at the appropriate office. So Alirza took us to the office, but the local manager did not want to give us a permit, it would have been necessary to obtain a permit in advance in baku ...
Well, Percy and I were already planning our return journey, but Alirza took us to see his friend, the Minister of Youth and Sports, who had his office right around the corner.
After Alirza told him our story, the gentleman then made a few phonecalls and a some minutes later we were back in front of the grim responsible, who then drove us in his private car up to the volcano. Of course, as an absolute exception, because it was actually only for researchers and corresponding dress contour is mandatory, because the volcano is still active.
Oh it got more exciting!
So we sat in the car armed with safety helmets and romped for 10 minutes over the dirt road up the small hill.
Then we were allowed to get out of the car and after a few meters on foot we had to stop. Ahead of us lay an unspectacular gray hill, a wild hare lumbered off in the distance and a shepherd romped around with his flock of sheep near red signs.
Hhmmm ... that was the volcano.
Supercentred, to prevent the laugh attack, we drove back after 5 minutes.
Meanwhile, Alirza had organized a meeting with another acquaintance who works for the government and is currently busy preparing for the presidential election.
But before that we got a tour through the government building and were allowed to look at the picture gallery of the former president Heydər Əliev.
While a lady in Azerbaijan explained the CV of him, Alirza translated us diligently. The interesting history course was completed with Çay and photo sessions.
Then we went with Shamana and Alirza to the market, because Shamana needed fresh ingredients for the vegetarian "Göy Qutabi" (a kind of pancake filled with different fresh herbs). After a short tea with her sister, we went to Shamana's home and Cécile was allowed to help sometimes with the preparation of the Qutabı while Percy and Alirza played a game of skill with the little Kamela and her brothers.
What an entertaining spectacle in the kitchen!
While Shamana and her sister were cooking, they were constantly on the phone with somebody. So funny!
After we had eaten the delicious food we wanted to go with the bus to the city, it was then already 22.00 o'clock.
But Shamana personally drove us 20 km back to the city, with a short detour to her uncle, a refugee from Karabakh.
What a day! Once again, we are only amazed about the happenings. 
Percy went to bed completely exhausted from the events and once again the cold made him sick.
---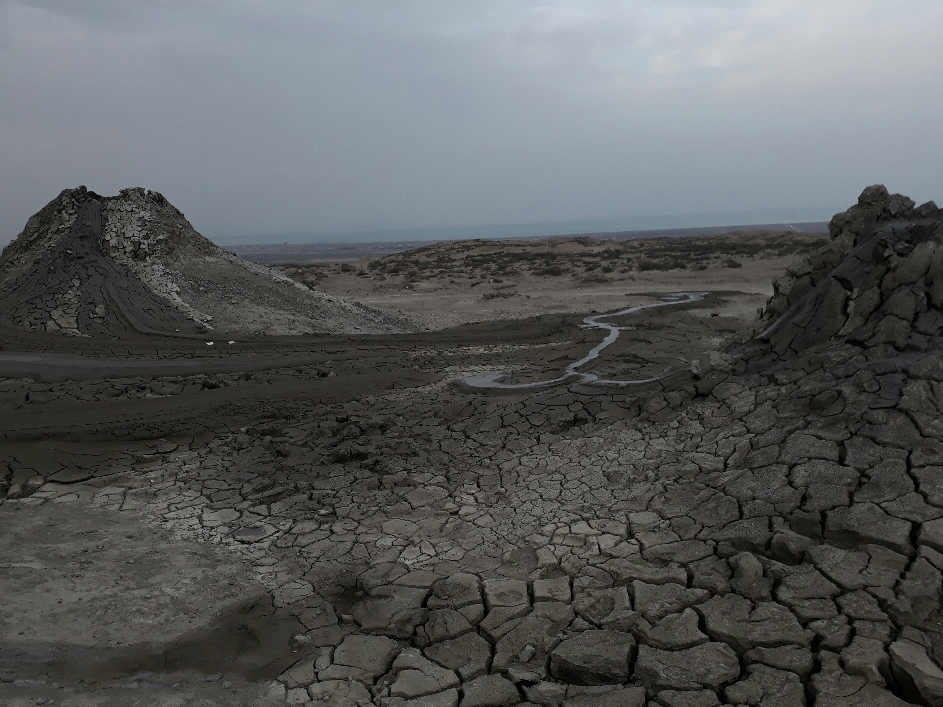 Muddy Qobustan
Since Percy's health apparently improved, we drove on, after Lökbatan, continue to Qobustan vulcano.
On the way we met Carry and John, who are travelling quite similar to ours, but they are on their way since 10 month an startec from Scotland. Of course, we invited them to a çay-chat and were surprised at the similarities of her "being on the way".
After we had found a nice reasonably sheltered spot below the Vulcanos and we set up our camp.
But the wind soon turned and tore wildly at our Tatonka. In the middle of the night we heard a loud crash: The tent pole was broken and had once again torn a neat crack in the "pole channel".
I was grateful for the full moon and his bright light, so I soon had the rod patched together again (luckily we had a replacement tube) and provisionally patched the crack  with adhesive tape.
-Ps: At that time in Tbilisi we had briefly considered whether we should order new poles for the tent, but they were so expensive, it would have been worth buying a new tent. In the end we hoped that it would go wrong, even without a new tent ...-
It was a very windy night and before sunrise it was suddenly very quiet.
Immediately i thaught about the muddy mess on the dirt road if it would start raining. In that case we wouldn't be able to reach the highway with our bikes.
So we packed everything together in the dark while the first raindrops were already falling. We just came down the hill, when the ground was already so softened, that on the last four kilometers of straight dirt road our steel horses only spat mud and bucked.
For 2 hours we struggled back to the road, driving was impossible thereafter, mud and sand stuck everything, circuit, disc brake, chain, everything messed up and I looked like the lost clay monster of Qobustan, such a mess!
It was raining, the day had long since dawned and the birds were chirping happily. 
I scolded myself inside that I had not picked a better place to sleep, the mishap could have been prevented again with some foresight ... but lerning by doing, that's the way to do it, right?
Fortunately, we found a few meters away a "Lavazh" and could wash our bikes including me, with the high pressure cleaner.
The wind was already tugging properly again and Percy was completely at the end of his strength, there was nothing left but for him to fully recover and spare his lungs.
In the next settlement we asked for accommodation, according to the map, there should even be a hotel. Ofcourse the hotel didn't exist where it was pointed out on the map. But a busdriver knew a place only some kilometers far away. What a coincidence! 
Here we are by now, in a cheap hotel. The wind has calmed down and Percy is sleeping soundly.
The tent is neatly sewed together and the tent poles are fixed again, so everything is ready for use, until the next storm will come...
If Percy recovers well, we'll probably be in Iran in a week.
With great anticipation we look at the map to Rasht, where we will see our new Iranian friends again.